Natalie Khor, Lab Technician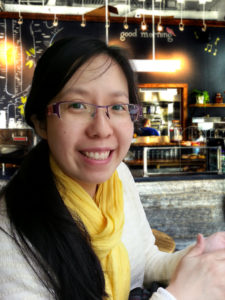 Academic Background
Natalie received her BSc and MSc in Biochemistry at Concordia University. Her Master's thesis focused on generating a Zn2+-free oxygenase of phenol hydroxylase found in the Pseudomonas species to characterize the function of the zinc ion bound to the enzyme – an important player in bioremediation.
She joined Dr. Santosa's lab in 2016 as a lab technician, where she works alongside students and helps train them on various instruments and biochemistry/molecular biology techniques.
Outside of the lab, Natalie enjoys having a good meal with friends, baking, watching TV dramas, working on DIY crafts and travelling.
---
Claire Plissonneau, Postdoctoral Fellow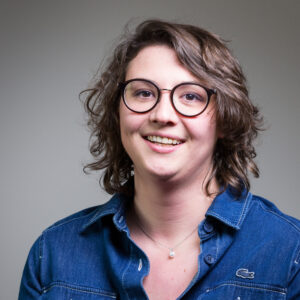 Academic Background
Claire Plissonneau earned her Ph.D. in 2021 in Nutrition and Physical activity in a context of inflammatory pathologies, such as obesity, at the University Clermont Auvergne in France. Her current research, as a Horizon Postdoctoral Fellow, is to characterize regional healthy adipose tissue recruiting individuals with diabetes and obesity, obesity and who are lean. She also works on characterizing adipose tissue in those with childhood vs. adulthood onset obesity.
Research Objective
Claire's project is to characterize the regional adipose tissue in patients with type II diabetes and obesity in line with Kerri's researchs Ph.D.
Awards
– 2022 Horizon Postdoctoral Fellowship
– 2022 Thesis Award – Association "Nutrition Méditerranéenne et Santé", France
– 2021 Young investigator award Oral Communication – International "Association des Chercheurs en Activités Physiques et Sportives" (ACAPS) Congress, France
---
Jessica Murphy, PhD Student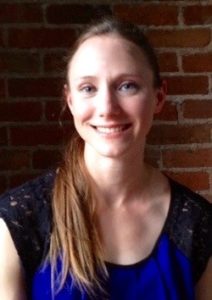 Academic Background
Jessica Murphy received a BSc and MSc from the School of Dietetics and Human Nutrition at McGill University.  Her MSc thesis examined the insulin resistance of protein and glucose metabolism in elderly women with obesity and type 2 diabetes. Eager to explore obesity and aging from a new lens and shift her focus to fat, she joined MON Lab as a PhD student in Concordia's Individualized Program.
Research Objective
Her thesis investigates whether the period of obesity development (childhood-onset versus adult-onset) influences the way adipose tissue biology responds to a lifestyle weight loss protocol.
Awards
While completing her PhD, Jessica has received several scholarships including the Ed Whitlock Award, PERFORM Doctoral Fellowship, Diabete Quebec Award, and an FRQS Doctoral Award.
Jessica has participated in the Canadian Obesity Network Boot Camp and is also the co-chair of the Canadian Obesity Network – Concordia Student Chapter.
---
Kerri Delaney, PhD Student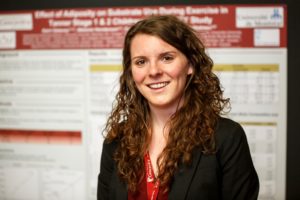 Academic Background
Kerri completed her BSc (Hons) at the University of Waterloo in Kinesiology with a minor in Human Nutrition. She began her MSc with Dr. Santosa in September of 2015, accelerating into her PhD in January 2017. While in her program Kerri has received 10 internal and external awards/recognitions including awards from Concordia University, The PERFORM centre, Nestle Nutrition, and the Canadian Obesity Network. Kerri's research examines immune cell presence, markers of inflammation and fat cell characteristic in fat tissue from different regions of the body in individuals with obesity and type 2 diabetes.
Research Objective
The main objective of Kerri's research is to further our understanding of the pathology of type 2 diabetes while additional examining the effect of weight loss via bariatric surgery. Kerri is a co-chair of the Canadian Obesity Network – Concordia Chapter. After the completion of her PhD she plans to continue her training in a Post Doctoral position.
When not in the lab, Kerri's enjoys road biking, snowboarding, and playing guitar.
---
Laurent Turner, MSc Student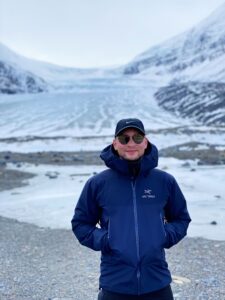 Academic Background
Laurent recently graduated from Concordia University with a Master's of Science in Health and Exercise Science. His primary research interests are directed towards understanding the mechanisms underlying the development of obesity-associated comorbidities. Particularly, he is interested in examining the factors influencing inter-individual differences in chronic disease susceptibility and how current lifestyle and surgical interventions can be improved to target individual needs. Eager to gain a deeper understanding of obesity, he will soon begin his doctoral studies at the University of Adelaide in hopes to expand his knowledge of this chronic disease.
Research Objective
His thesis explored the impact of age and age of obesity onset on adipose tissue characteristics (adipocyte size, adipose tissue
fibrosis and macrophage infiltration) and the markers of cardiometabolic health.
Awards
While completing his master's degree, Laurent received several awards including the PERFORM Graduate Student Award in Health Research and presentation awards obtained during conferences. He recently became the recipient of the University of Adelaide Research Scholarship to pursue his doctoral degree.
---
Niloufar Ghaderian, MSc Student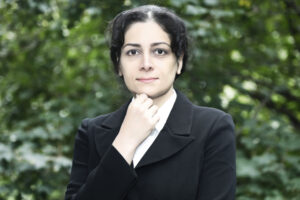 Academic Background
Niloufar obtained her MSc in 2020 from the Department of Health, Kinesiology, and Applied Physiology at Concordia University. She holds a BSc in Nutrition Sciences and also an MSc in Agriculture.
Research Objective
Niloufar has research experience in the field of cardiovascular diseases. Her current research interest focuses on obesity mechanisms and treatment.
---
Tiffany Moey, MSc Student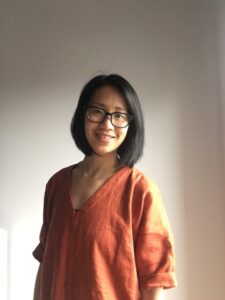 Academic Background
Tiffany graduated from Concordia University in 2003 with a BSc in Exercise Science, Athletic Therapy specialization. While working as a Certified Athletic Therapist, she also completed a BSc in Dietetics at McGill University to become a Registered Dietitian specializing in sports nutrition. For the past 10 years, she has worked closely with athletes with this unique but complementary combination of professions to strive for optimal performance. She also completed the IOC Sport Nutrition Diploma program. Tiffany works with the recreationally active community to educate and guide individuals to healthy eating for active lifestyles that can be sustained over a lifetime. Most recently, Tiffany has decided to shift focus and work with a chronically ill population to help improve health through nutrition using a culturally and socially sensitive lens.
Research Objective
After working in the field for over a decade, Tiffany hopes to contribute from a different point of view – she is pursuing the research side of nutrition and exercise. She will be studying the role of nutrition in muscle function of bariatric surgery patients.
---
Sarah Feola, MSc Student

Academic Background
Graduated with a BSc in Health and Human Performance with a track in exercise science. My thesis is looking at the effects of exercise on fat depletion within the muscle of those living with obesity, particularly intramyocellular and Extramyocellular lipids.
Research Objective
My research objective is to investigate if the onset of obesity either childhood or adulthood plays a factor in fat depletion within the muscle.
---
Rachel Abramczuk, MSc Student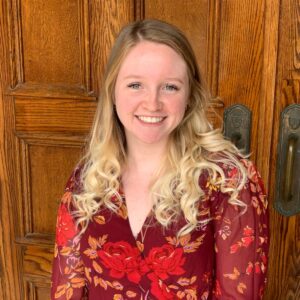 Academic Background
Rachel graduated with a BSc (Hons) in biological and pharmaceutical chemistry and minored in nutritional and nutraceutical sciences from the University of Guelph in Ontario. She worked as a pharmaceutical medical writer prior to deciding to go back to school and pursue her Master's degree in Montreal.
Research Objective
Rachel's research is focused on the effects of protein supplement source in ketogenic diets on weight loss and body composition.
---
Anjalee Wanasinghe, MSc Student

Academic Background
Anjalee Graduated with an MBBS ( Bachelor of Medicine, Bachelor of Surgery) from the University of Kelaniya, Sri Lanka. She worked as a medical officer in Sri Lanka before pursuing her Masters degree in Health and Exercise Sciences at Concordia University.
Research Objective
Anjalee's research interest is to examine the relationship between adipose tissue lipid and immune cell profiles blood, lipid, and inflammatory marker concentrations and how they are affected by the protein source in a ketogenic diet.
---
Lyne Al-Nabelsi, BSc Student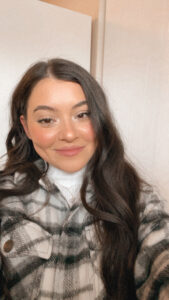 Academic Background
Lyne graduated with a BSc (Specialization) in Biology from Concordia University. She is currently pursuing a secondary BSc in Exercise Science in the Department of Health, Kinesiology, and Applied Physiology at Concordia University. With great interest in nutrition and metabolism, she completed a research project for her Independent Study in Dr. Santosa's lab and she is currently working at the lab as a summer student.
Awards
Summer 2022 – Concordia Undergraduate Student Research Award (CUSRA)